Regular price
Sale price
$12.99 USD
Unit price
per
Sale
Sold out
(100% BY JOVE GUARANTEE) 
The Premium By Jove Beard Co. 100% Boar's Hair Beard Brush will keep your beard healthy, shaped and and frizz free. The natural boars hair bristles will also massage your skin to exfoliate and help spread essential oils to keep your face and beard healthy. The natural wood base is also easy to grip and control.

✅ Boar's Hair Beard Brushes are Best for Beard and Skin.
✅ Bristles Help Release Natural Sebum Oil and Distribute Throughout Your Beard.
✅ Smooths Out Tangles and Snags
✅ Distributes Beard Oils Evenly.
✅ Removes Skin Flakes and Other Debris from Your Beard.

✅ No Risk. If Your Beard Isn't Healthier, Smoother and Better Looking, We'll Buy It Back. Guaranteed.
✅ Extremely Durable. Built to Last.
Materials

100% Boar'sHair Bristles

Natural Wood Handle
Shipping & Returns

30 Day Full Money Back Guarantee
View full details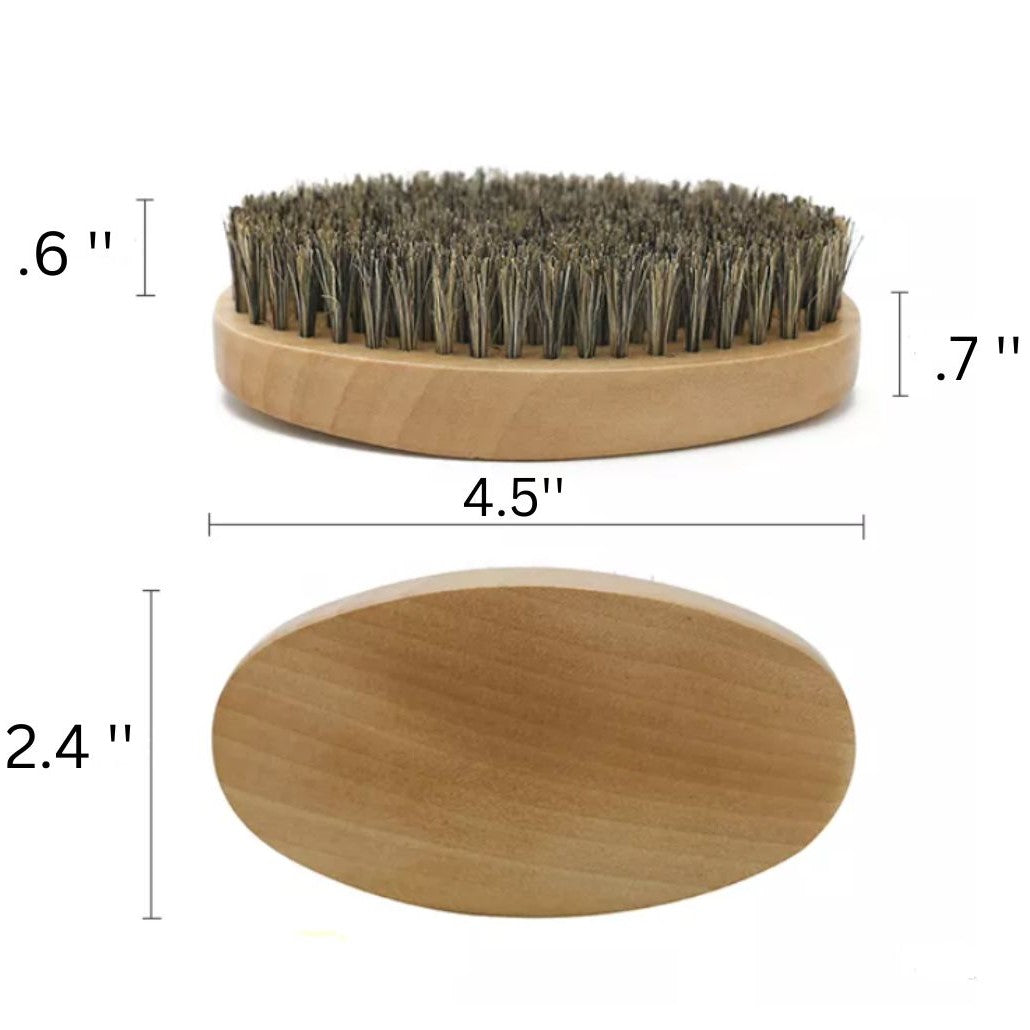 Collapsible content
WHY BOAR'S HAIR IS BETTER FOR BEARDS THAN REGULAR BRUSHES

You already know proper beard grooming is essential to maintaining a healthy,
good-looking beard. A well-maintained beard exudes confidence, style and
sophistication. But you might not know that one of the most essential tools for beard
grooming is a boar's hair beard brush.

This type of brush is specifically designed for beards and offers
many benefits over regular hair brushes. In this blog post, we will explain why boar's hair beard brushes are better for beards than regular brushes and how to
use them to achieve a sweet-looking beard.

Why Boar's Hair Beard Brushes are Better for Beards

Boar's hair is a natural, porous material that's uniquely suited
for brushing beards. The natural oils in boar's hair help distribute the oils
from your skin to your beard, keeping it healthy and shiny. The stiffness and
coarseness of boar bristles bristles are perfect for getting through thick,
coarse beard hair, making it easier to detangle and style. Boar's hair brushes
also have a natural ability to absorb excess oil and dirt, keeping your beard
clean and fresh.

Regular hair brushes, on the other hand, are often made with
synthetic bristles that can irritate and damage beards and skin. Synthetic brushes also lack the natural oils found in boar's hair, meaning they can't
provide the same moisturizing benefits. Regular brushes also tend to be less
effective at detangling and styling hair, making them a less ideal choice for
beards.

Another benefit of boar bristle brushes is that they are
durable and long-lasting. Boar's hair brushes are designed to last longer than regular
brushes, which means they are a more cost-effective in the long run.

How to Use a Boar's Hair Beard Brush

Start by combing your beard with a sandalwood beard comb to
remove any tangles or knots. This will make brushing easier and prevent damage
to your beard.

Wet your beard with warm water. This softens the hair and
makes it more pliable, which makes brushing easier.

Apply a small amount of beard oil or balm to your beard. This
helps moisturize the hair and skin and makes your beard look shiny and healthy.

Take the boar's hair brush and begin brushing your beard,
starting at the roots and working your way down to the tips. Be sure to brush
in the direction of the hair growth to avoid damaging your beard.

As you brush, pay special attention to any tangles or knots
and gently work them out with the brush.

Once you have brushed your entire beard, use a comb to shape
and style as desired.

Finish by washing your beard with a gentle shampoo and
conditioner to remove excess oil or dirt.

Dry your beard with a soft towel and style it again with a
comb or brush to your desired shape.

Boar's hair beard brushes also distribute the natural oils of
your skin, giving your beard a healthy shine, and remove dirt, dead skin and
other impurities that can cause itching or acne. Brush your beard regularly to
keep it in tip-top shape.

In conclusion, boar's hair beard brushes are a must-have if want
to maintain a healthy, well-groomed beard. The natural oils and stiffness of
boar's hair bristles make it the perfect choice to detangle, style and moisturize
your beard.

Regular brushes simply can't compare to the benefits provided
by boar's hair brushes. So, if you're serious about your beard game, invest in
a quality boar's hair beard brush.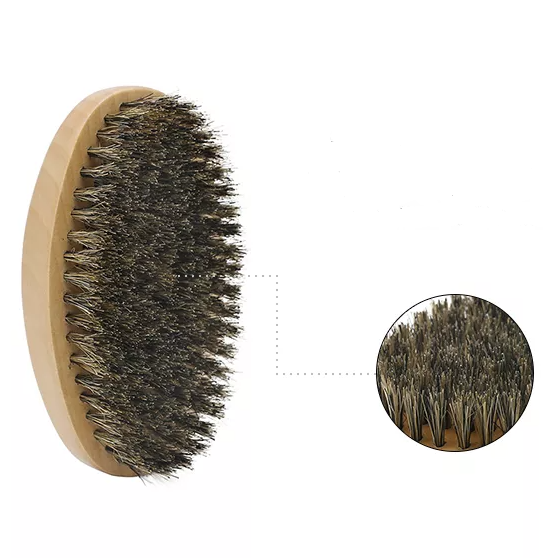 Boar's Hair is Better
Boar's Hair Beard Brushes are naturally anti-static and anti-frizz. They are also firm at the base and more gentle at the ends to give you comfortable and firm control.